Product details
FALL PROTECTION AND RESTRICTED ACCESS TO HAZARDOUS ZONES
Double Axes Gate
The Double AXES GATE is specifically developed as fall protection for cage ladders and work platforms. When working in elevated places or in other hazardous situations, optimal fall protection is vitally important for your employees. The Double AXES GATE is a robust, industrial safety gate that you can use to secure the openings of cage ladders and safely restrict access to your machines and work platforms.
Self-closing double industrial safety gate
With an industrial safety gate such as the Double AXES GATE®, you leave nothing to chance. Gates left open by the carelessness of some individuals no longer present a hazard if you use the Double AXES GATE. After all, this double industrial safety gate closes automatically each time someone passes through. When installing, you have a choice whether the door opens to the left or to the right. The Double AXES GATE is available in lengths of 550 to 1200 mm, to meet the needs of your situation. The rest of the positive qualities of this robust, impact-resistant polyurethane safety gate are listed below.
FALL PROTECTION THAT IS TESTED AND APPROVED TO COMPLY WITH THE HIGHEST STANDARDS OF SAFETY
Double Axes Gate
The safety and strength of the Double AXES GATE have been tested extensively. Several sectors involve major risks of falling from a great height. The consequences of such a fall are huge, both from a human and material perspective. These are incidents that you would rather avoid at your company. We therefore advise you to make a conscious choice to install a safety gate to safely close your cage ladders and work platforms above certain heights. And not just any safety gate, either.
Ultra-strong, impact-resistant plastic fall protection
Our double AXES GATE is an ultra-strong plastic safety gate that is so strong precisely because of its impact-resistant properties. That is why it is so well-qualified to serve as fall protection. Inspection and tests have proven that our double industrial safety gate can easily withstand an impact of at least 100 kg. At any impact, they bend briefly and then return to their original shape. Bends, dents and fractures as can often be seen in their iron and steel counterparts do not occur in our plastic fall protection. That is one of the reasons why they comply with the stringent EN 14122-3 and 14122-4 standards, the results of 15 years of research and development and production experience.
SELF-CLOSING SAFETY GATE WITH ADJUSTABLE RESISTANCE SETTINGS
Double Axes Gate
When a rushed or absent-minded employee forgets to close the safety gate when leaving, your security system becomes completely pointless. These types of human error happen far more often than anyone hopes. Boplan has also thought about that. Our Double AXES GATE has an innovative, self-lubricating hinge element which ensures that the safety gate will close automatically, keeping your access way permanently restricted. It is also important to know that you can decide whether the safety gate opens to the left or right when you install it. You can also determine the resistance and speed of the self-closing hinge during installation. But that is not all.
Highly robust, reliable fall protection
The Double AXES GATE is a double safety gate because it uses two horizontal lines. Both horizontal lines are connected by vertical lines at regular intervals. This redundancy makes the safety gate a highly robust, reliable fall protection system.
SAFETY GATES RESISTANT TO CHEMICALS, FIRE AND UV
Double Axes Gate
These past 15+ years, our AXES GATEs have been used worldwide on a daily basis in the most intense and demanding circumstances, such as in the chemical industry and on offshore drilling platforms.
The properties of the AXES GATES
Our double industrial safety gates are chemically resistant because they can withstand chemical substances, corrosive agents or toxic chemicals. That is why we are regular visitors in the highly demanding petro-chemical sector.
The Double AXES GATES are also corrosion-resistant and can withstand the effects of highly saline environments such as offshore drilling platforms.
Since our synthetic safety gates have been coloured to the core, they retain their highly visible yellow colour, even when they have exposed for days on end to intense solar radiation. So the Double AXES GATE is also UV-resistant.
Moreover, our double safety gates are fire-resistant.
The main reason that the AXES GATE is suitable for such a wide range of applications in each sector lies in the way it is implemented, its composition and the remarkable properties of the plastic it's made of.
INDUSTRIAL SAFETY GATE MADE OF DURABLE POLYURETHANE
Double Axes Gate
Our Double AXES GATE has received wide acclaim for its very long life span. The double AXES GATE has been manufactured from high-quality, reinforced polyurethane (PU). This synthetic material puts the all-too-familiar problems with metal fatigue in traditional fall protection systems firmly in the past.
Fall protection made of extremely durable materials
The spring in the hinge was tested to be able to withstand over 100,000 cycles. Rust and corrosion cannot eat away at the reinforced plastic and stainless steel components of the double AXES GATE. Because of the durable, carefully chosen materials using in manufacturing our fall protection, you will have no trouble with structural weaknesses. Added bonus: these materials are also very low-maintenance.
FALL PROTECTION THAT COMES IN AN EASY-INSTALL PACKAGE
Double Axes Gate
The Double AXES GATE comes packaged in a box or pallet box delivered completely assembled. The safety gate is very easy to install from there. Since it only uses one size of nuts and bolts, there is no need for a complete array of tools. An adapter is included in case you want to attach the AXES GATE to a round tube. It's clear: the double safety gate of the AXES GATE series is easy, fast and safe to install, even in elevated places.
FALL PROTECTION AND SAFETY GATES WITH THE BEST VISIBILITY
Double Axes Gate
The type of plastic we use in the Double AXES GATE is, like all our other safety products, coloured to the core with the distinctive safety yellow, RAL number 1023.
Using materials that are coloured to the core has several advantages:
There is no need to keep on repainting the fall protection after impact.
The safety gates are low-maintenance and UV-resistant, so their colour won't need to be touched up regularly.
The AXES GATE is also often praised for its aesthetic qualities.
Preformed slots make it possible to hang warning signs on the gate.
RELIABLE FALL PROTECTION IS CHEAPER THAN CUTTING SAFETY COSTS
Double Axes Gate
Do not be stingy with the safety of your employees or your work environment. There is no acceptable price to pay for human suffering; you should steer clear of avoidable company costs caused by workplace accidents. The consequences of workplace accidents due to faulty safety precautions in the workspace could prove to be a costly mistake: absence from work, delays in production, time-consuming and annoying labour inspections, not even mentioning the damage to your reputation. All in all, the consequences of a workplace accident will result in a far higher price than simply installing solid measures to restrict access to hazardous zones, using self-closing safety gates and reliable fall protection.
Durable and cost-efficient fall protection
By choosing the Double AXES GATE®, you undoubtedly opt for optimal safety, but also for a cost-efficient investment. Due to their unique properties, all of our industrial safety gates enjoy a long life span with less worries about maintenance.
FALL PROTECTION IS SAFE FOR FINGERS AND HAS NO SHARP EDGES
Double Axes Gate
The Double AXES GATE has been designed with in-depth thought and a focus on functionality. The double safety gate is not just aesthetically pleasing, but also uses a very safe construction. All of our industrial safety gates incorporate an innovative hinge technology which has no sharp edges. That is why our hinges are not only very safe for extremities, but also use rounded elements that prevent snags in clothing or limbs.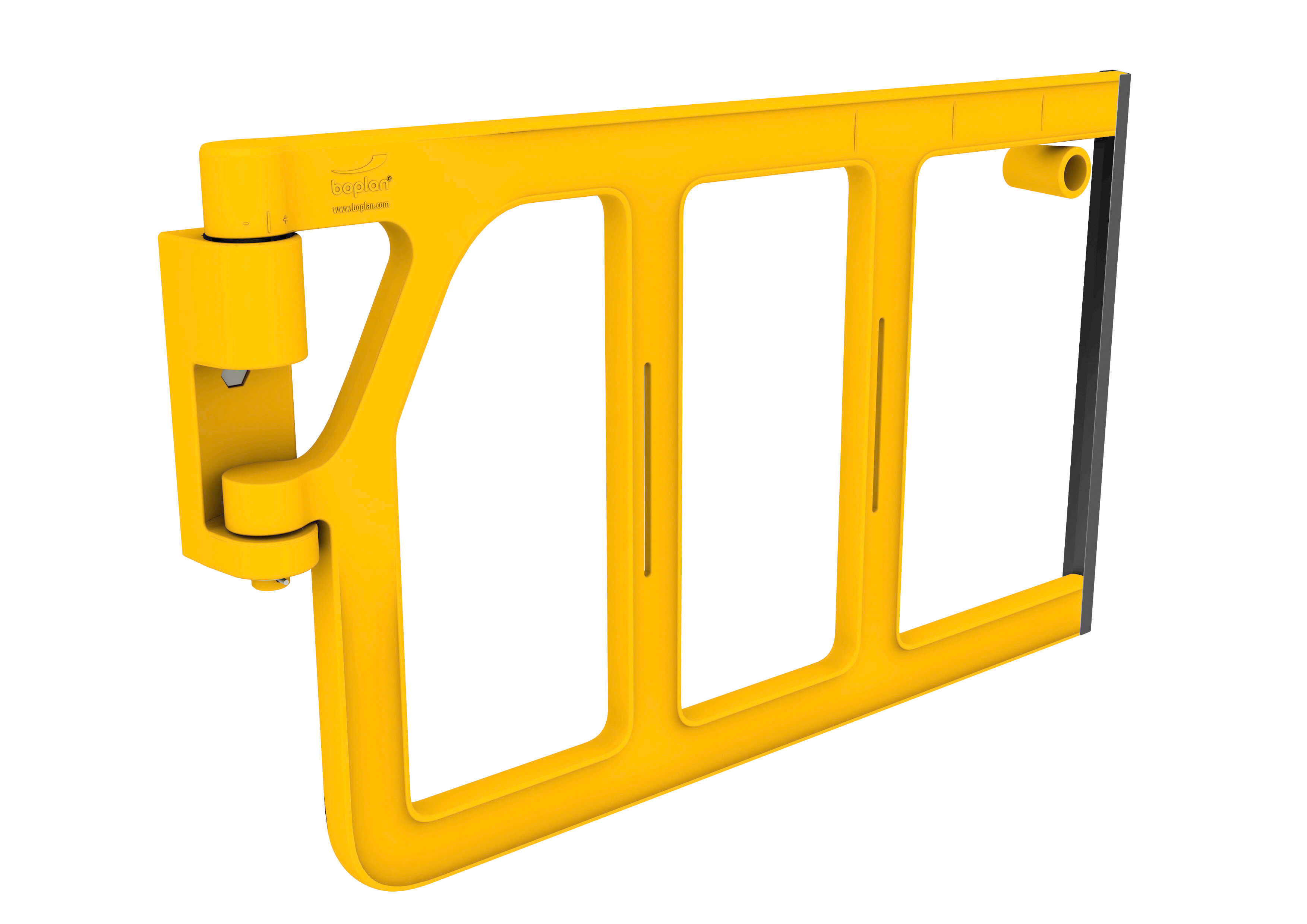 OPTIONAL END CAP
Double Axes Gate
Our Double Axes Gate has been specifically developed to offer fall protection for ladder cages and work platforms and safely restrict access to machinery. The double axes gate is cut to size to meet your requirements and this results in the top and bottom bars not being connected. However, this optional end cap can be fitted to the ends to close the gap. Although the end cap does not provide any additional safety benefits, it bridges the gap to form a more integrated solution.
OPTIONAL SIGNHOLDER
Double Axes Gate
The axes gate comes with the additional option of a fixed signholder. This useful accessory allows you to attach a safety sign safely to the gate as a further safety measure. The optional signholder is fastened securely to your safety gate by four bolts The additional signholder allows to you display important information, safety warnings or instructions clearly. You can warn people of any dangers or let them know of any precautions that must be taken.
OPTIONAL ADAPTER
Double Axes Gate
Our single and double axes gates have been designed for easy installation within your workplace. They can be installed on ladder cages, walls and work platforms. This small adapter allows you to safely install the axes gate hinge to a ladder cage or handrails with a round tube. This adapter is only necessary on round tube profiles. Walls, square ladder cages and angle profiles do not require this adapter for installation. This adapter is easy to fix to your axes gate.